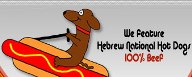 Top Dog Hot Dog (818) 885-0534 All stainless steel cart, propane fired steam table, an ice chest for beverages, the Top Dog Hot Dog cart brings a variety of hot dogs, chips, cookies, and beverages to your special event. ItⳠsure to draw a crowd at auto shows, corporate affairs, company picnics, street fairs,and private parties!


Chimney sweep, chimney cleaning (805) 376-2141
Barnett Chimney Sweep is located in Newbury Park, CA. and offers service to Newbury Park, Thousand Oaks, Camarillo, Westlake Village, Simi Valley, Agoura Hills, Moorpark, Oxnard, Oak Park, Calabasas, Conejo Valley, Ventura County, Canoga Park, Woodland Hills and West Hills.




Margarita Man (805) 551-1697
The Margarita Man specializes in frozen beverage machine rentals. Our machines produce restaurant quality frozen margaritas, daiquiris, pina coladas, chi-chis, sangrias and mimosas.




Margarita Machine Rentals

hot dog machines | karaoke machines | party directory | fundraisers
become a link partner | site map party & drink recipes | cotton candy rentals
chocolate fountains rentals margarita machine recipes | popcorn machine rentals
snow cone machine rentals Thousand Oaks Camarillo Calabasas Simi Valley Agoura Hills Moorpark Oxnard Westlake Village Oak Park Ventura County Conejo Valley Canoga Park Woodland Hills West Hills Granada Hills Porter Ranch Northridge Chatsworth