Cotton Candy Machine Rentals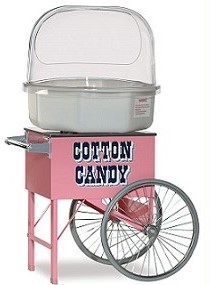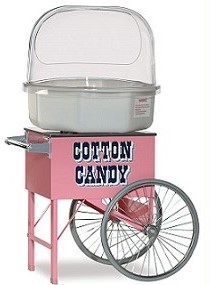 Rent a top quality cotton candy machine with cart for your next party. These are the same cotton candy machines you see at fairs or carnivals. Our cotton candy machine makes 4 servings per minute and over 100 oz. of Cotton Candy per hour. In an instant you can be serving cotton candy to the whole crowd, young and old. Rental includes 1 container of cotton candy sugar floss and 50 cotton candy cones, enough to make 50 servings! Choose from either Pink Vanilla, Blue Raspberry or Grape flavored sugar floss. Each additional 50 servings only $25.00. This unit should be plugged in to it's own 15amp circuit and be used with no more than 25' of extension cord of at least 12 gauge.
Cost of rental is 150.00. This includes delivery, setup and pickup, 50 cotton candy cones, 1 flavor of cotton candy sugar floss, protective bubble and cart.
Cabana Boy cotton candy machine rentals offers delivery to Newbury Park, Thousand Oaks, Camarillo, Simi Valley, Moorpark, Westlake Village, Agoura Hills, Oak Park, Oxnard, Calabasas, Conejo Valley, Ventura County, Canoga Park, Woodland Hills West Hills, Chatsworth, Granada Hills, Porter Ranch, Northridge.
Thousand Oaks margarita machine rentals
Camarillo margarita machine rentals
Calabasas margarita machine rentals
Simi Valley margarita machine rentals
Agoura Hills margarita machine rentals
Moorpark margarita machine rentals
Oxnard margarita machine rentals
Westlake Village margarita machine rentals
Oak Park margarita machine rentals
Conejo Valley margarita machine rentals
Ventura County margarita machine rentals
Canoga Park margarita machine rentals
Woodland Hills margarita machine rentals
West Hills margarita machine rentals
Granada Hills margarita machine rentals
Porter Ranch margarita machine rentals
Northridge margarita machine rentals
Chatsworth margarita machine rentals
Margarita Maker Rentals

hotdog machines | fundraisers | rent chocolate fountain | popcorn machine rentals

snow cone machine rental | rent karaoke machine | party directory

site map | rent ice cream cart | margarita machine recipes | nacho machines