Hot Dog Machine Rentals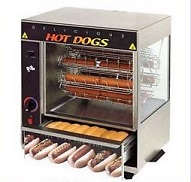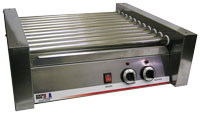 Choose from three types of hot dog machines for your next party. The hot dog steamer, hotdog broiler or hot dog roller. The "Steamin Demon" hot dog machine is truly the world's best hot dog steamer. Cooks up to 90 hot dogs and 40 hotdog buns at the same time! Very simple to operate, fill with water and turn it on, add your hotdogs and hot dog buns and 45 minutes later your eating. The Star hotdog broiler holds 36 dogs and 32 buns, easy to use and gives you a more attractive look. For the fastest cook time the hot dog roller grill cooks in just 10 - 15 minutes, holds 30 hot dogs and will make You feel like you stepped into the ballpark with the fabulous smell of franks. These machines will keep your hot dogs warm and ready the entire party. You supply your favorite hot dogs and hot dog buns and the machine will do the rest. It just doesn't get easier than this!
Cost of rental is 95.00. This includes delivery, setup, pickup and cleaning.
Cabana Boy hot dog machine rentals offers free delivery to Newbury Park, Thousand Oaks, Camarillo, Simi Valley, Moorpark, Westlake Village, Agoura Hills, Oak Park, Oxnard, Calabasas, Conejo Valley, Ventura County, Canoga Park, Woodland Hills, West Hills, Chatsworth, Granada Hills, Porter Ranch and Northridge.
Thousand Oaks machines
Camarillo machines
Calabasas machines
Simi Valley machines
Agoura Hills machines
Moorpark machines
Oxnard machines
Westlake Village machines
Oak Park machines
Conejo Valley machines
Ventura County machines
Canoga Park machines
Woodland Hills machines
West Hills machines
Granada Hills Machines
Porter Ranch Machines
Northridge Machines
Chatsworth Machines
Margarita Machine and slush machines

karaoke | rent chocolate fountain | popcorn maker rentals
snow cones | ice cream cart rentals | party directory | site map | nacho machine
party & drink recipes | margarita machine recipes | cotton candy rentals