Chocolate fountain Rentals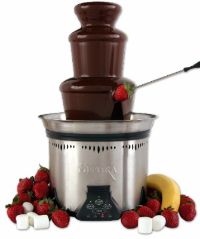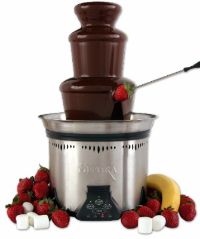 Our chocolate fountains are perfect for small to medium size parties (25-50 people). Each chocolate fountain will hold 5 lbs of chocolate and stands 20 inches tall by 11 inches round. Your family and friends will be amazed and entertained as they dip delicious fruits and desserts into a cascading curtain of warm melted fondue chocolate.
Need more than one chocolate fountain?


Rent two chocolate fountains and get $25.00 off the second fountain. Offer your guests a choice, have one dark chocolate and one milk or white chocolate fountain.
Top ten dipping items for your chocolate fountain: Strawberries, Marshmallows, Bananas, Oreo Cookies, Cream Puffs, Brownies, Apples, Rice Krispy Treats, Frozen pound cake and Pretzels.
Cost of chocolate fountain rental is $150.00 This includes delivery, pickup, cleaning, 100 wooden skewers and 4 lbs of Sephra Belgian premium fountain chocolate (additional chocolate is $20.00 for 2 lbs) 4 lbs of chocolate will accommodate 40 guests.
Cabana Boy chocolate fountain rentals offers delivery to Newbury Park, Thousand Oaks, Camarillo, Simi Valley, Moorpark, Westlake Village, Agoura Hills, Oak Park, Oxnard, Calabasas, Conejo Valley, Ventura County, Canoga Park, Woodland Hills and West Hills, Chatsworth, Granada Hills, Porter Ranch, Northridge.
Call now to rent a chocolate fountain for your next party!
margarita machine rental Thousand Oaks
margarita machine rental Camarillo
margarita machine rental Calabasas
margarita machine rental Simi Valley
margarita machine rental Agoura Hills
margarita machine rental Moorpark
margarita machine rental Oxnard
margarita machine rental Westlake Village
margarita machine rental Oak Park
margarita machine rental Conejo Valley
margarita machine rental Ventura County
margarita machine rental Canoga Park
margarita machine rental Woodland Hills
margarita machine rental West Hills
margarita machine rentals Granada Hills
margarita machine rentals Porter Ranch
margarita machine rentals Northridge
margarita machine rentals Chatsworth
Margarita Machine Rentals

ice cream cart | rent sno-cone machine | rent popcorn machine
rent hotdog machines | party directory | site map | party recipes
cotton candy rental | margarita machine recipes | karaoke rental | nacho machine